最後12包現貨,即將全面更新產品包裝

,

Myprotein最抵用健身奶粉送舊迎新大優惠 50% Off! (門市及網站購買同樣適用)
(標價已經折扣了)
(優惠限期由即日至到31/9/2019或者直到現貨售罄,網上購買及門市購買相同,所有已經完成付款的訂單不接受更改或取消。)
(目前我們在香港的Myprotein現貨最佳食用期限為2019年底至到2020年不等 ,在個人使用的合理使用期之內。如有疑問歡迎到門市購買 。)
英國No.1健身奶粉Myprotein早在2015年進軍美國市場時,獨立第三方檢測機構美國Labdoor在73個品牌中把Myprotein Impact Whey Protein Isolate分離乳清蛋白在質量排行榜中名列第二名,評分高達91.2,性價比第一名!超越所有其他主要品牌。 品質優良而且價格相宜,難怪Myprotein極速成為健身初學者以至健身教練的最抵之選。
(排行榜: https://labdoor.com/rankings/protein)  
90%高純度分離乳清蛋白,極低脂低糖,吸收速度極快,所以完全不影響腸胃健康。英國No.1健身奶粉Myprotein以價格實惠及品質優良著名,2004年發展至今已成為全球最大網上運動營養品品牌,現正發展至香港及其他亞洲市場。超多味道選擇,價格比官網更低,香港現貨平均兩天送達。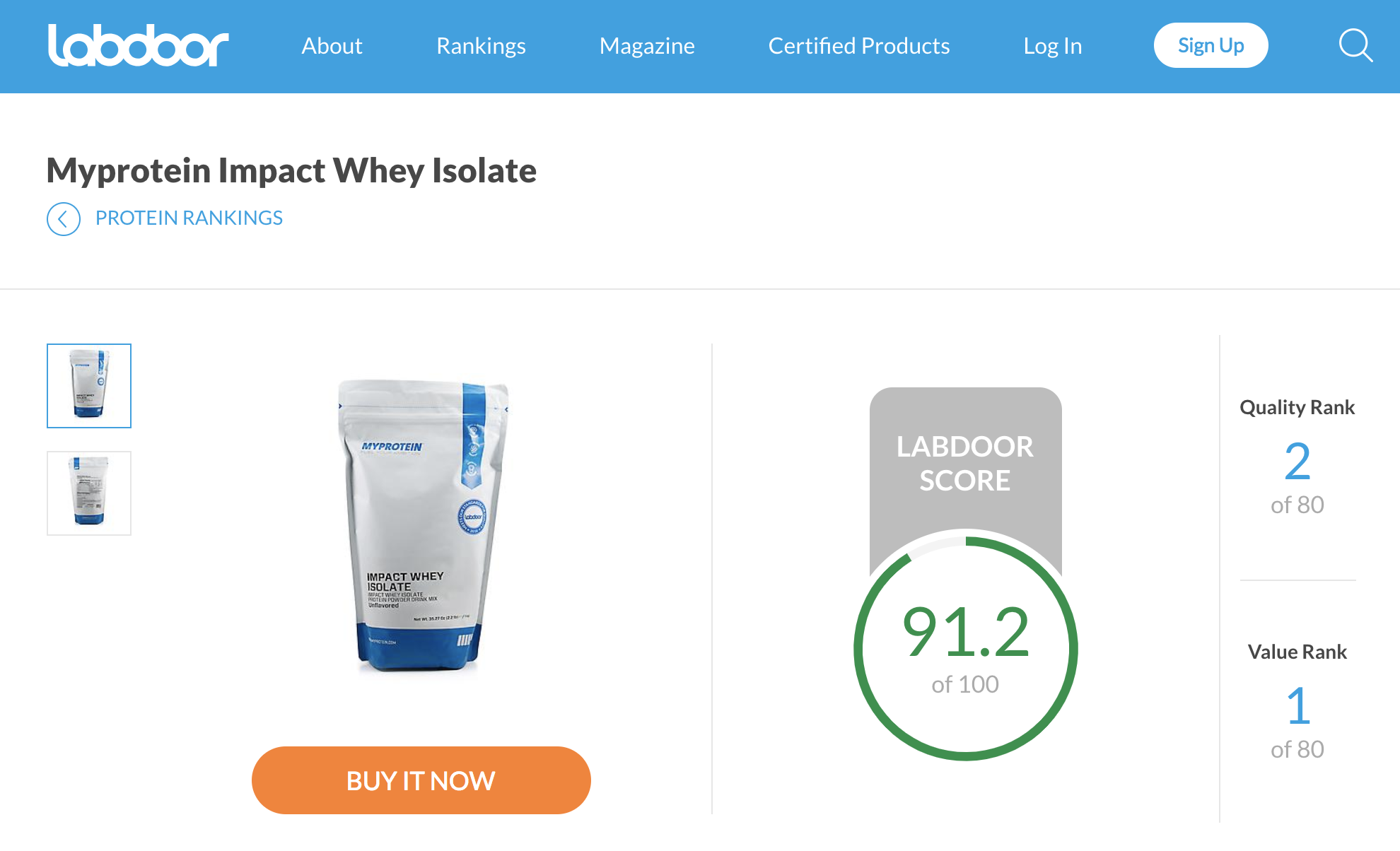 KEY BENEFITS
Grade A Labdoor ranking

90% protein content

22g of protein per serving

Low fat and less than 1g of carbs
IMPACT WHEY ISOLATE: PURER PROTEIN FOR PEAK PERFORMANCE
Say hello to one of the purest whey proteins available on the market. Having undergone an expert purifying process to ensure maximum protein integrity, our Impact Whey Isolate boasts over 90% protein and just 1% fat.
And where does this come from? The same cows that produce your milk and cheese – simply filtered, evaporated and spray-dried to produce all-natural nutritionals.
Ranked Grade A by independent tester Labdoor for both quality and value, Impact Whey Isolate is officially certified as one of the best protein powders available.
Plus, providing you with essential amino acids, you're safe in the knowledge your performance and recovery are in good hands.
WHAT ARE THE BENEFITS OF IMPACT WHEY ISOLATE?
The 23g of high-quality protein per serving is perfect for supporting all training goals, contributing to the growth and maintenance of muscle mass*, while also being low in fat and containing less than 1g of carbs – the ideal choice if you're keeping an eye on calories, too.
Impact Whey Isolate also provides you with glutamine and BCAAs, which both occur naturally in our highly refined protein. These are amino acids and form the building blocks of new protein, which is important whatever your training goals.
There's simply not another protein isolate powder out there that delivers the same outstanding quality and value. And that's because it's created in our own state-of-the-art production facility, where we develop superior products in-house and deliver direct – cutting out the costs to pass the savings onto you.
Enjoy it in a range of specially created flavours, from classic Chocolate Smooth and Strawberry Cream to the indulgent Rocky Road and Salted Caramel.
WHEN SHOULD YOU TAKE IMPACT WHEY ISOLATE?
Impact Whey Isolate is fast absorbing, so it's recommended to be consumed 30-60 minutes post-workout, but it's also great for enjoying any time of the day to get the protein you need.
Add to milk or water, or try it out with your favourite smoothies or porridge at breakfast times for a protein-packed treat. Check out The Zone for some recipe ideas.
UPGRADE YOUR GAINS: HOW TO MAXIMISE PERFORMANCE
Impact Whey Isolate is super-refined to guarantee some of the purest protein around, ideal for all activities from weight training to callisthenics. But, to push you through those tough final reps, add a few scoops of Creatine Monohydrate. It's proven to increase physical performance in successive bursts of short-term, high-intensity exercise – ideal for improving strength and power.
* Protein contributes to the growth and maintenance of muscle mass.
Nutritionals based on Unflavoured.
Please note that the labelling on this product is provided in English as a minimum. French, Italian, German, Spanish, Danish, Swedish and Finnish may also be present on a product by product basis.